About The Janilink Corporation

We are continuously developing products and systems every day.

Janilink specializes in the highest quality products & equipment nationwide to ensure 100% satisfaction with both our customers and commercial contractors alike. All products & equipment are tested with the customer in mind to ensure that you receive the highest quality products to satisfy all of your expectations and more. We've partnered with quality manufacturers from the U.S., Europe and Asia, and only purchase directly from the manufacturer in order to maintain high quality products at low prices.

We ensure that our prices are lower than most janitorial supply companies, even those in your local area. Not only is our prices low, but we also offer a 64% discount rate on all freight. This means you pay less to ship nationwide. Bottom line, even though you pay our low shipping cost, you will still pay less than if you had shopped locally.

We ship to the entire United States by UPS or FedEx to ensure your product arrives both quickly and safely, to your home or business.

Many janitorial supply companies claim to have inventory in multiple locations across the United States, through extensive research, we found this to be largely untrue. Here at Janilink we stock over 7,500 different cleaning products and ship them right to your door, in most cases within two days or less.

Janilink offers a high level of customer service to large and small businesses including janitorial companies, schools, churches, commercial contractors, cleaning services companies, as well as domestic consumers. Janilink offers a very user friendly and simple online shopping experience for all who enjoy buying smart and saving big.


JANILINK CORPORATION

Janilink Corporation was founded in 1996 in Atlanta, Georgia with the vision to become the largest distributor of commercial cleaning supplies for the janitorial supply industry. So far with locations in Atlanta, GA, Janilink plans to expand nationally by offering franchise licenses in major cities. For more information on franchise opportunities, go to franchise info. We cater to both janitorial service contractors/sub-contractors and institutional/commercial customers who use janitorial supplies for building maintenance.
We are revolutionizing the commercial cleaning products industry by offering an unparalleled selection of products and services under one roof. Today, our stores stock up to 7,500 different kinds of cleaning products. Our unique services include free training on cleaning procedures, equipment repair/maintenance, and equipment rental.


OUR WAREHOUSE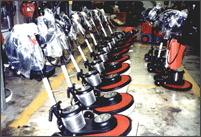 MANAGEMENT

President: Daniel Chung, CEO
In 1984, Mr. Chung founded KO-AM, Inc, a janitorial supply company in Dallas, TX. He grew the company into one of the leading suppliers in the Dallas market. He developed a unique retail model strategy to differentiate from competitors. In 1996, he sold KO-AM and started Janitors World, a janitorial supply company in Atlanta, GA. Using the same concepts from previous experience, he built Janitors World into one of the leading janitorial supply companies in Atlanta. In 1996, Janitors World changed its name to Janilink to reflect a national expansion strategy. In 2002, Mr. Chung started a new Janilink branch in Raleigh, NC and grew it to profitability in 3 months.
Our Goals - "QPS":
Best Quality:
Our products reflect how you are as a professional cleaner. Therefore, Janitors World is always in the process os developing new products, allowing your job to be easier and more productive.


Lowest Price:
Janitors World has been one of the leading low-cost distributors for year nationwide. All of our commercial products in our warehouse are sold at wholesale price.


Fast Service:
Our reputation is know from our fast delivery and customer service. To us, the customer is always right.




LOCATIONS

Atlanta, GA
Address : 3545 McCall Place, Suite D Doraville, GA 30340
Email : janilink@gmail.com
Phone : 770-234-2255
Toll-Free : 770-234-2255
Fax : 770-220-0553


Continue